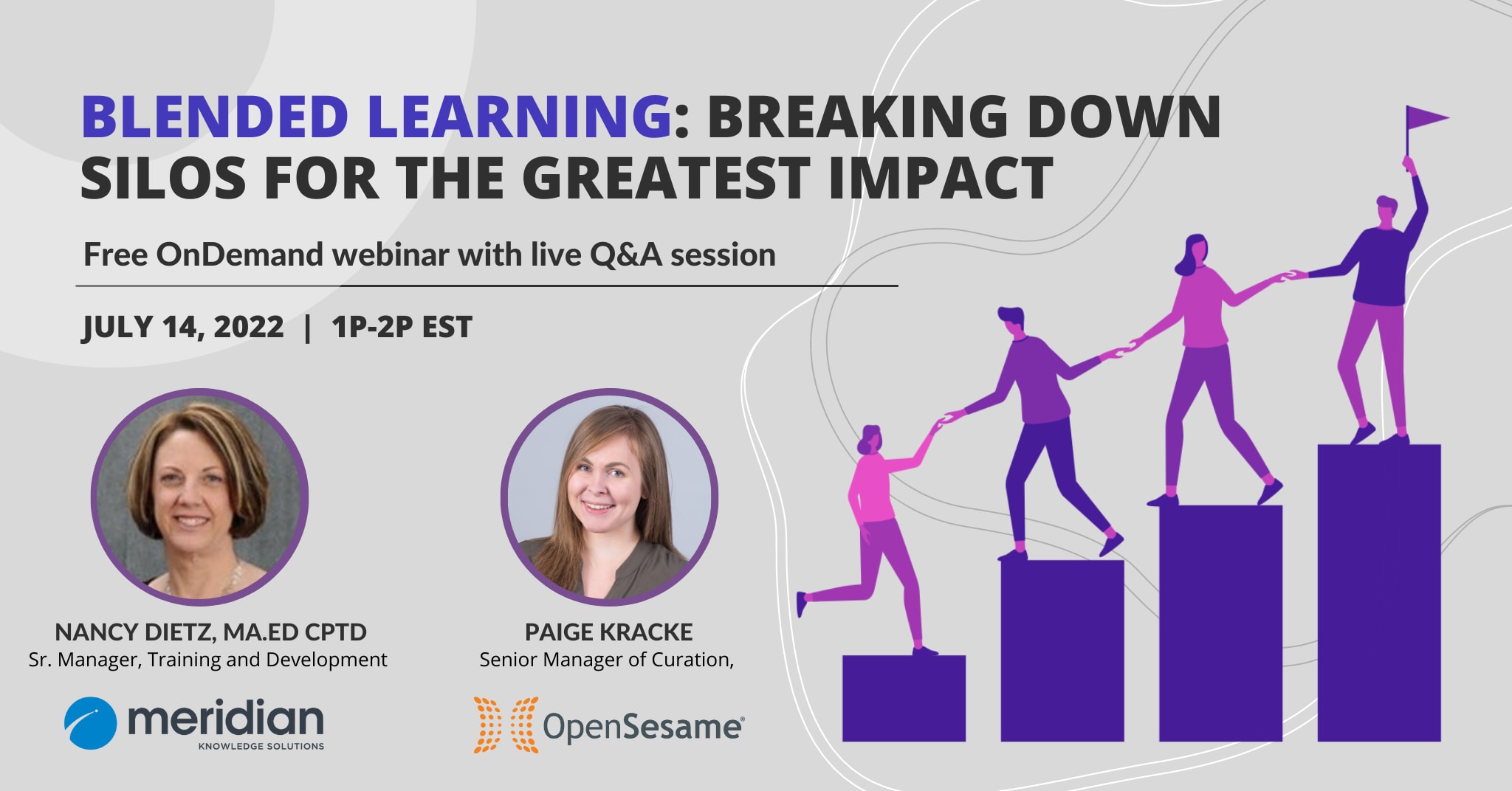 Learning and Development professionals and LMS admins often work in silos losing sight of the organizations' needs for outcomes. Today's executive teams and workforce necessitates increased efficiencies and improved performance.
Blended learning can be the perfect approach to guide your organization and bridge those gaps. Discover how you can up-level your training programs and deliver true impact. Join Paige Kracke, Senior Manager of Curation at OpenSesame, and Nancy Dietz, Senior Manager, Training and Development at Meridian Knowledge Solutions as they discuss:
Best practices in developing blended learning programs
Pitfalls to avoid with curriculum design
Developing training programs to capture actionable insights for your executive team
About our Speakers
Nancy Dietz, MA.Ed CPTD, Senior Manager, Training and Development, Meridian Knowledge Solutions
Nancy Dietz, CPTD has been in Learning and Development for over 15 years. Nancy's extensive background in the adult education learning space spans Director of Education Services, LMS and ATS Administrator, Training Consultant and Manager of Training and Development. Nancy's passion is using technology to increase information accessibility for an organization's primary resource – its people.
Nancy believes in creating training programs to leverage technology to open doors for employees to consume new ideas and refresh existing knowledge. Nancy is an expert at creating training programs such as Service Excellence for Executive and Management Staff for large corporations and designing accessible LMS and student materials.
Paige Kracke, Senior Manager of Curation at OpenSesame
Paige Kracke is a content curation enthusiast, explorer of new technologies, and lifelong learner, currently serving as the Senior Manager of Curation at OpenSesame. She has half a decade of experience creating training programs for enterprise-level organizations and curating e-learning content for global audiences. In 2020, Paige was recognized as one of Learning's Thirty Under 30 for demonstrated leadership and innovation in the online learning space. Paige earned her Bachelor's Degree in economics from Tufts University.