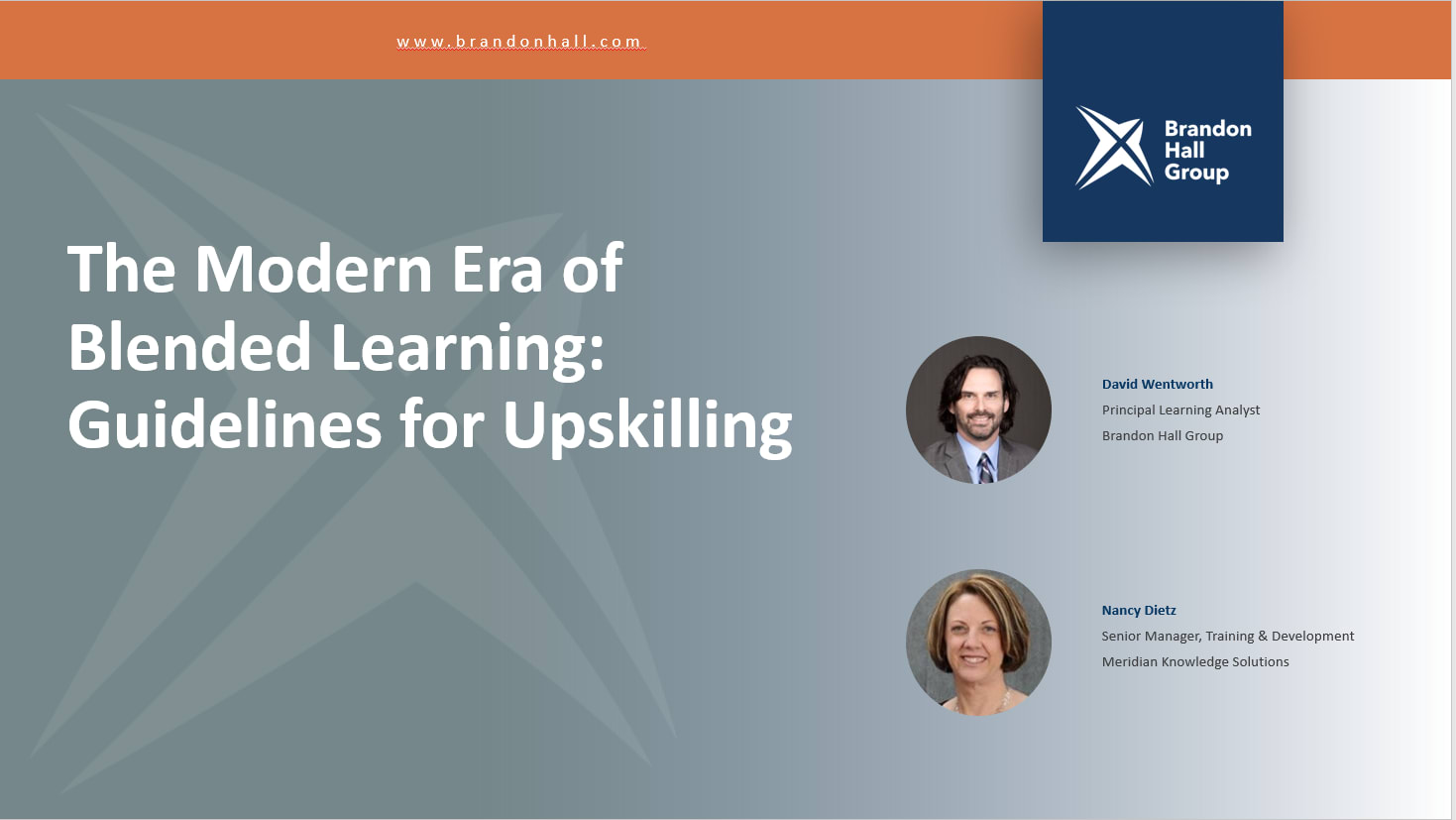 David Wentworth, Principal Analyst with Brandon Hall Group, and Nancy Dietz, Senior Manager, Training and Development of Meridian Knowledge Solutions, discuss how companies can strategically leverage blended learning to upskill and reskill the workforce to drive business outcomes.
Discussion topics include:
• What really is blended learning?
• What dictates how learning should be blended?
• Making upskilling stick
• Guidelines for moving forward
Fill out the form to watch the 40-minute informative video.
About Our Speakers
David Wentworth, Principal Analyst with Brandon Hall Group
David Wentworth has been a research analyst in the human capital field since 2005, joining Brandon Hall Group in 2012 to concentrate on learning research. David's research focuses on how people learn and the role of emerging technologies. He has written several reports published by ATD, covering mobile learning, social/collaborative learning, and more. His work has also appeared in Compensation & Benefits Review, T+D Magazine and CLO Magazine. David is a busy speaker, delivering keynotes, breakout sessions and participating on panels at events around the world.
Nancy Dietz, MA.Ed CPTD, Senior Manager, Training and Development, Meridian Knowledge Solutions
Nancy Dietz, CPTD has been in Learning and Development for over 15 years. Nancy's extensive background in the adult education learning space spans Director of Education Services, LMS and ATS Administrator, Training Consultant and Manager of Training and Development. Nancy's passion is using technology to increase information accessibility for an organization's primary resource - its people.
Nancy believes in creating training programs to leverage technology to open doors for employees to consume new ideas and refresh existing knowledge. Nancy is an expert at creating training programs such as Service Excellence for Executive and Management Staff for large corporations and designing accessible LMS and student materials.
Fill out this form to access the Webinar