Today's trade and professional associations are challenged to look beyond member dues for additional sources of revenue. Savvy organizations are strengthening their continuing education programs to generate growth.
50% of a typical association's revenue comes from non-dues sources.*
Annually, associations provide millions of workers across industries with access to critical skills training. These learning programs, continuing education units and certifications give individuals the knowledge they need to sustain and grow their careers.
9.7M U.S. workers receive training from an association annually.**
* Avenue M Group, Non-Dues Revenue Report 2017
**ASAE, Power of Associations Study
Modern learning technology that exceeds expectations
Your association members expect an attractive, modern user interface with a rich feature set. With the Meridian learning management system built for associations, you can:
Deliver a consumer-grade course catalog so members can easily locate the professional development they need

Notify members of due dates to maintain certifications, licenses, and accreditations

Help members to close gaps between formal education and workforce readiness

Support members worldwide with full page translations and GDPR compliance

Use gamification, badging and surveys to spark member engagement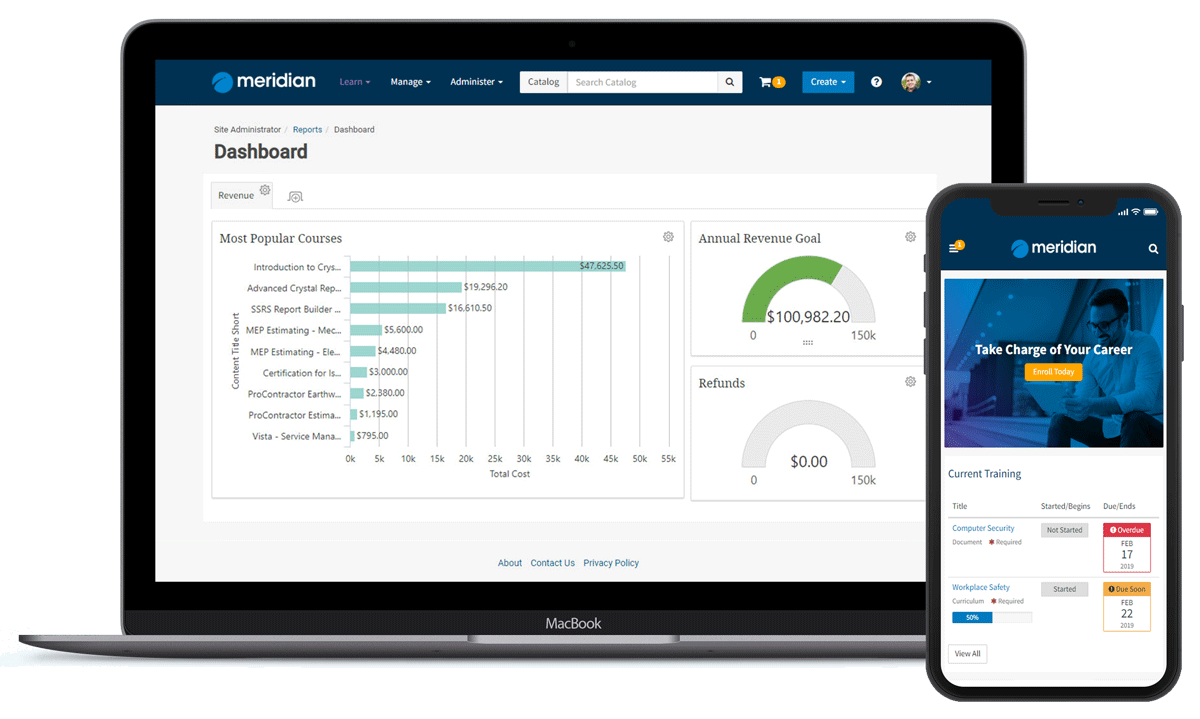 Content is king.
By simplifying the administration of your association's educational programs, you can focus on creating new resources and training to drive new revenue. The Meridian LMS™:
Easily manages your complex accreditation requirements
Includes a customizable interface to match your association's branding

Integrates into existing technologies, such as association management systems, and business processes

Offers ecommerce functionality to support multiple payment gateways, member/non-member pricing and discounts

Develop and manage competency frameworks that accelerate career advancement

Enforces entitlements to limit or extend member access to content
Association Events & Conferences
Instructors and learners can easily track and record attendance at live events and credits earned onsite. Meridian LMS™ allows you to:  
Seamlessly track learner progress

Safeguard against double claiming

Issue credits and provide certificates of completion
The Meridian LMS™ is ideal for member organizations who want to grow the revenue generated from their educational offerings.
Meridian delivers learning solutions to retain members and keep them connected. Learn how.