Healthcare organizations face many challenges, such as high employee turnover, budget constraints and a shortage of skilled workers. At the same time, they need to focus on their core mission of delivering quality care and increasing patient satisfaction.
1/3 of nurses to reach retirement age in 10-15 years.*
Learning is key to any healthcare organization's success. Staff turnover and high rates of absenteeism typically mean lower quality of patient care. A robust LMS for healthcare institutions can help overcome learning challenges, mitigate risks, ensure compliance as well as increase employee and patient satisfaction.
58% of hospital staff in one survey left jobs due to long hours & burnout.**
* American Nursing Association data
** LFT Industry Survey: Hospital Staff Hiring & Turnover
Manage regulatory training & assure healthcare compliance
Meridian's learning management system offers rich features and extensive reporting capabilities to help manage regulatory training, and support compliance audits. Meridian's platform makes it easy for you to meet healthcare regulations and compliance requirements of the Joint Commission, HIPAA, OSHA and more. With Meridian LMS you can:
Manage employee healthcare certifications and accreditations

Increase staff competencies

Adhere to rigorous security requirements

Gain actionable insights via compliance dashboards

Utilize notifications to remind employees of training due

Enable staff to plan their career via our Career Explorer

Identify and develop the leaders of tomorrow

Protect sensitive data and privacy of personnel information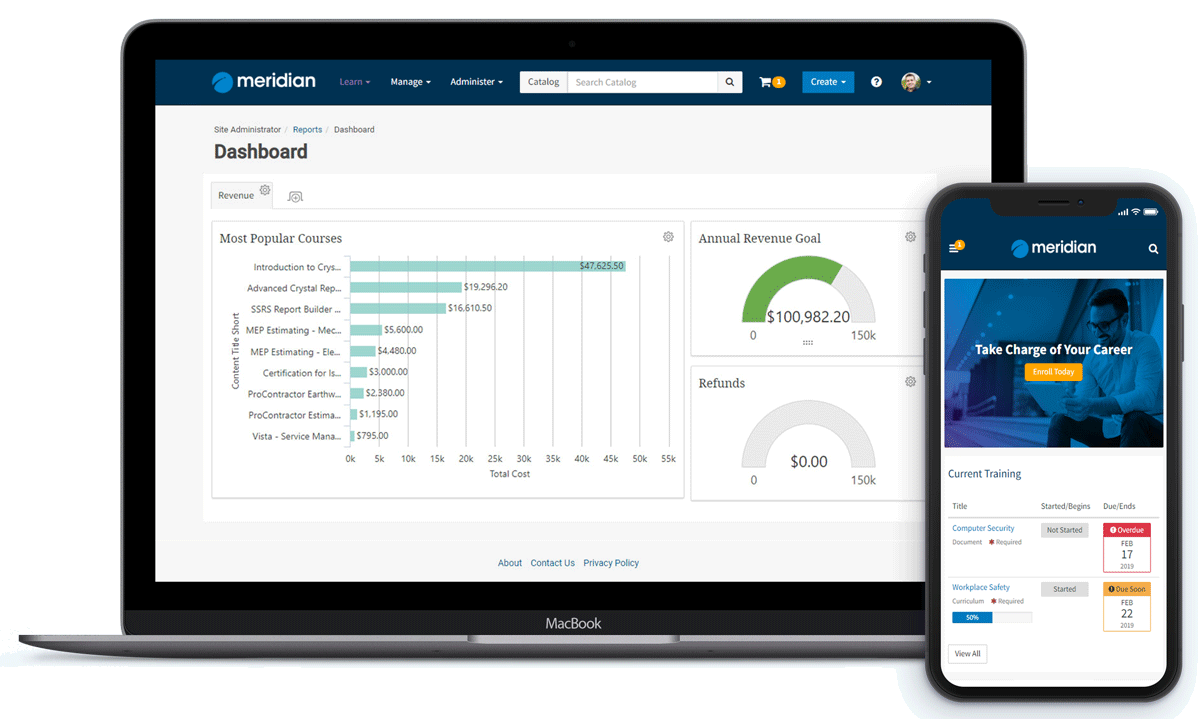 Engaging Patients and the Community.
In addition to being a corporate learning management system, Meridian also supports healthcare training software solutions such as external learning and training created for patients, suppliers and the community.
Learning for workers on the move.
Meridian's advanced mobile capabilities give on the go healthcare workers access to flexible training via any mobile device. Now your learners and their supervisors can:
Quickly train and onboard new personnel

Effectively conduct bedside assessments

Improve staff performance and patient satisfaction
Provide your workforce with the knowledge they need to improve patient outcomes.