Today's global energy organizations struggle to balance talent shortages with changing skillsets. Per State of the Energy Workforce 2018, a report from the Center for Energy Workforce Development, 12% of the energy workforce is 'ready to retire at any point'.
48% of energy professionals are concerned about an impending talent emergency*
Frequently changing energy industry regulations as well as complex and often varying regional government regulations make compliance management essential.
One company's fine by the FERC for violation of safety regulations.
*Global Energy Talent Index Report 2019, Airswift and Energy Jobline
**Wall Street Journal, February 1, 2019
Take a proactive approach to safety & compliance
The Meridian LMS has a rich feature set and extensive reporting capabilities to help address learning challenges in the Energy Industry. Training records are updated in real time, allowing for pro-active management of information needed for compliance reporting to governing bodies worldwide, such as the Office of Gas and Electricity Markets (Ofgem), Nuclear Regulatory Commission and the Federal Energy Regulatory Commission (FERC).
With Meridian LMS you can:
• Manage employee certifications and accreditations
• Increase staff competencies
• Adhere to rigorous security requirements
• Quickly upload and assign new training to meet new industry or safety regulations
• Utilize notifications to remind employees of training due dates
• Enable workers to plan their next career move via our Career Explorer
• Identify and develop the organization's future leaders
• Gain actionable data and insights via compliance dashboards
• Protect sensitive data and privacy of personnel information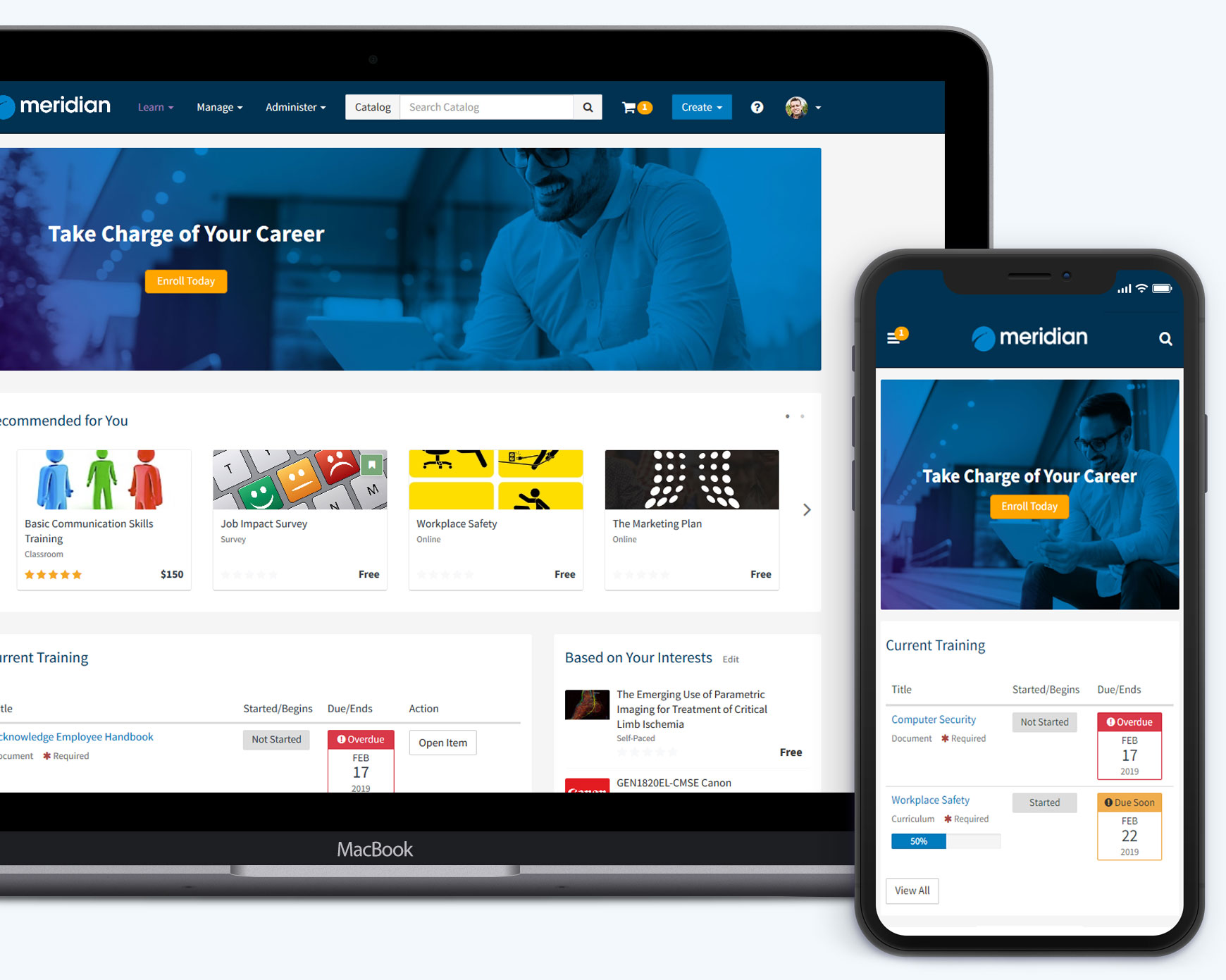 Learning for workers on the move
Meridian's advanced mobile learning capabilities give energy and industrial workers in remote locations access to training via any mobile device. Learning is available regardless if workers are located on an oil rig, aboard a transportation vessel or in the company's offices. Now your learners and their supervisors can:
Quickly train and onboard new personnel
Reduce delays in training on new safety and operating procedures
Improve staff performance and employee job satisfaction
Provide your workers with the education, on-the-job training and career development opportunities needed to boost retention rates, comply with regulations and positively impact corporate growth.
Compliance: Turning Risk into Opportunity
Turn compliance and risk management into innovative strategic planning Download our white paper to learn more.