Pharmaceutical firms, biotechnology companies and medical device manufacturers are subject to rigorous compliance standards set forth by regulatory agencies across all countries where they operate.
$39B expected R&D spend by medical tech firms by 2024.*
The U.S. FDA and other global standards organizations continually add stringent requirements for record keeping, document control and collaboration and software validation.
Compliance with GxP predicate rules in combination with electronic records as per 21 CFR Part 11 or EU GMP Annex 11 for computerized systems is mandatory.
20% of R&D budgets are spent on managing requirements from different regulatory agencies.**
*EvaluateMedTech, World Preview 2018, Outlook to 2024
**President of Global R&D, Sanofi
Compliance management that is strategic, not reactive
Today's successful life science organizations need strategic, rather than reactive compliance management. Life science firms must assure that training records are inspection ready for compliance audits and adhere to GxP guidelines.
With Meridian LMS you can:
Align learning with business processes and SOPs

Meet 21 CFR Part 11 software functionality requirements via e-signatures, version & revision control plus auditing & reporting capabilities

Utilize notifications to remind employees with training deadlines

Gain actionable insights via compliance dashboards, including the ability to drill-down to specific departments, teams, and individual employees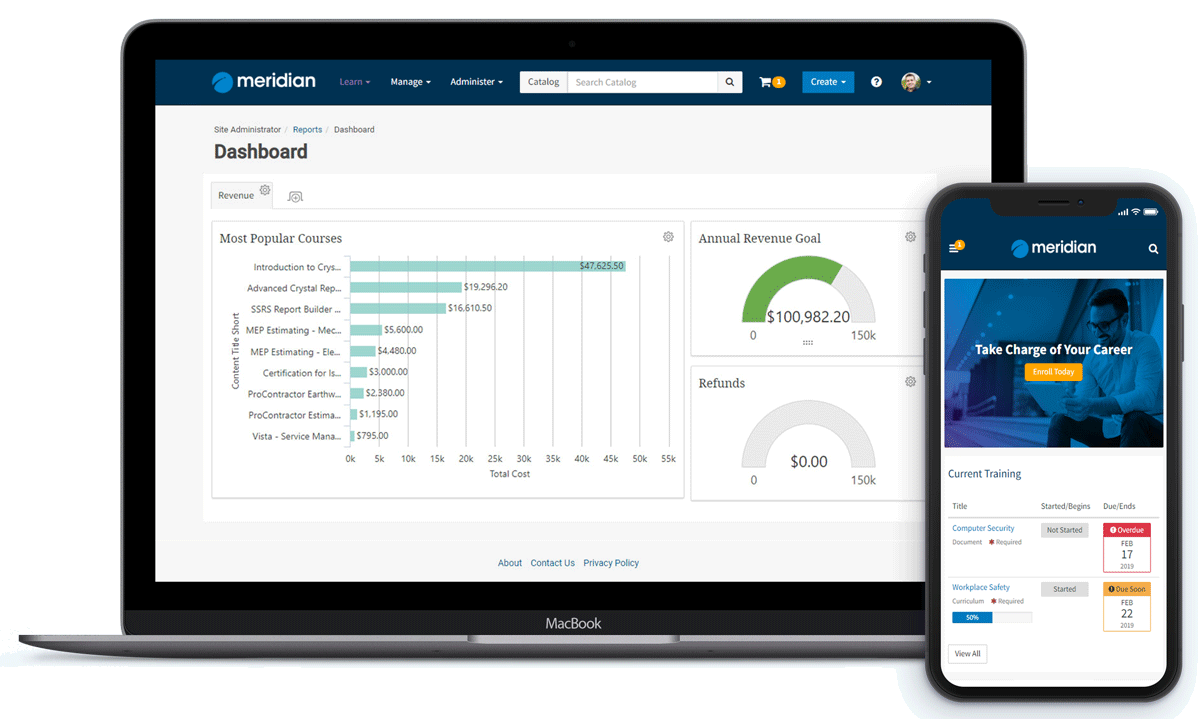 Organizations cannot afford the high costs related to non-compliance, such as substantial financial fines and stoppage of operations.
Learning beyond your enterprise.
Do you provide suppliers and distribution channels with training? Life science organizations that deliver learning beyond their employees can:
Boost time to market for new drugs and therapies

Improve sales performance and increase revenues

Track compliance across your entire ecosystem
Meridian's advanced mobile capabilities also offer flexibility for learners on the go with access training anytime, anywhere.