™The 2017 Summer Release of Meridian Global LMS adds seamless integration with OpenSesame's eLearning Marketplace providing impressive efficiency advancements for LMS administrators.

Reston, Va. – June 27, 2017 – Meridian Knowledge Solutions, a leading learning management system (LMS) provider and OpenSesame, the leader in on-demand elearning courses for the enterprise, announces a deep integration of Meridian Global LMS® version 17.2 with the OpenSesame Marketplace.
Meridian Global LMS 17.2 now streamlines the way users find and manage content, giving LMS administrators an easier and faster way to access and import courses from OpenSesame's curated elearning catalog.
"Meridian's exciting new partnership with OpenSesame allows us to deliver a comprehensive, flexible and seamless content marketplace experience to our customers. It furthers our commitment to help organizations unlock the value of learning and allows them to drive better business results," says Jonna Ward, CEO and President of Meridian Knowledge Solutions.
"At OpenSesame, we measure our success based on the ease and speed of our customer's experience," says Don Spear, CEO of OpenSesame. "Our continuing partnership with Meridian and deeper integration further improves how easy it is for our mutual customers to purchase elearning courses when and where they need them and take advantage of those courses even faster."
The OpenSesame and Meridian Global LMS® 17.2 Integration provides:
The OpenSesame Marketplace is now integrated with the Meridian Global Learning Management System, making it easier than ever to build your library of online content. Choose from more than 20,000 curated courses in a variety disciplines and expand your users' professional skills in a seamless, comprehensive learning experience.
Find the courses you want, choose the number of seats you need, and let the system import the courses for you. No more uploading courses one at a time.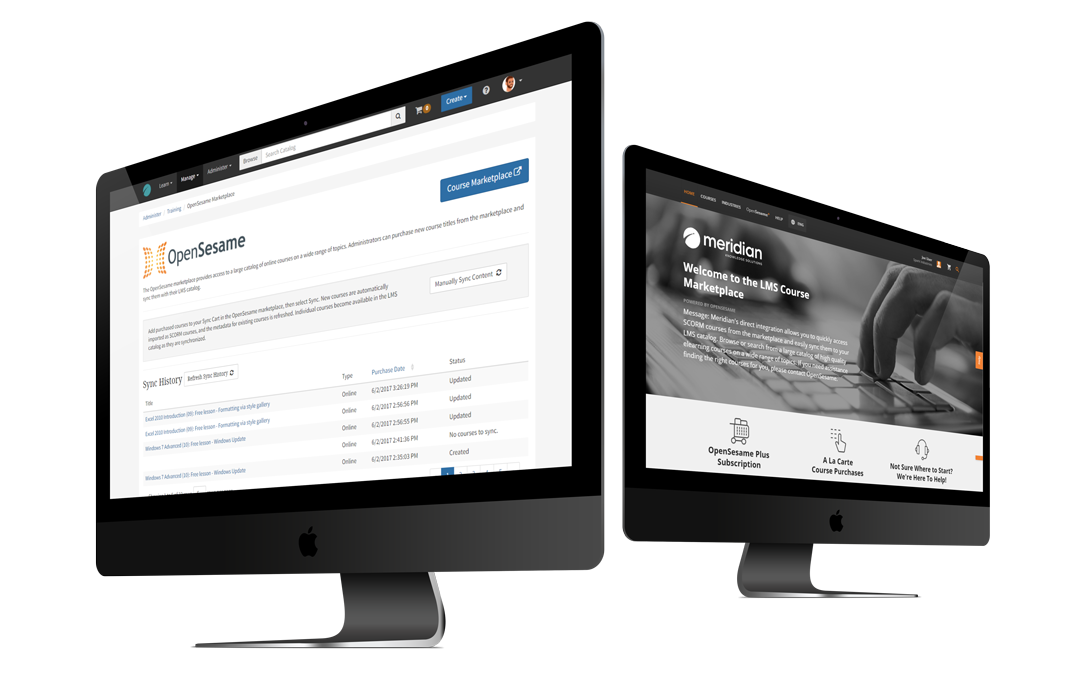 OpenSesame Integration Highlights:
Seamless integration and reporting with Meridian Global Learning Management System
Access to 20,000+ curated elearning courses in areas such as business skills, safety and compliance.
Flexibility to choose the number of seats and courses needed to meet your goals
Control of learner access to content
OpenSesame courses are automatically added to existing Meridian LMS™ course catalog
Single sign-on purchasing and synchronization of content
Availability
Meridian's 17.2 release is now available.
About Meridian Knowledge Solutions:
Meridian Knowledge Solutions, LLC, is the leading provider of enterprise, web-based learning management software. Meridian's powerful yet easy-to-use solutions are leveraged by organizations dedicated to building world-class learning enterprises inspired and focused on delivering exceptional results. With over 7 million users worldwide, Meridian offers a flexible, best-of-breed learning management system that gives organizations and users alike a seamless, integrated experience, all while strengthening the bottom line. The company is headquartered in Reston, VA.
About OpenSesame:
OpenSesame is the trusted provider of on-demand elearning courses for the enterprise. Serving Global 2000 companies, OpenSesame delivers:
The most flexible buying options to maximize your budget
The broadest catalog with 20,000+ courses from the world's leading publishers, updated constantly
For more information, visit www.OpenSesame.com.
[fruitful_sep]
Media Contacts:
John Carmean
Director, Marketing and Communications
Meridian Knowledge Solutions
jcarmean@meridianks.com
Rob Moore
Partnership Manager
OpenSesame
rob.moore@opensesame.com
@OpenSesame

[fruitful_sep]