Why does every organization eventually mature past their homegrown learning platform?
According to Brandon Hall Group's 2020 Learning & Development Benchmarking Study, 87% of companies currently use a Learning Management System (LMS) to support their Learning & Development— far more than any other learning-related technology—but only 11% of organizations are very satisfied with their current LMS.
Many organizations have opted to build their own learning management systems using internal resources over time. While they might have evaluated commercially available solutions, many likely felt that none of the available systems could meet their organization's unique needs at the time.
Initially, a custom-built system feels like the perfect solution and the most effective option to support specific requirements. However, over time as the organization grows and other technologies in the learning and IT industry change, the maintenance of a highly customized homegrown solution becomes extremely time-consuming. It's typically difficult for the developers to keep up with the ever-increasing number of new feature requirements and user numbers. Over time, the individual or team that created the solution might move on. Their departure makes changing or replacing functionality and modules complicated because critical documentation often doesn't exist for a homegrown solution.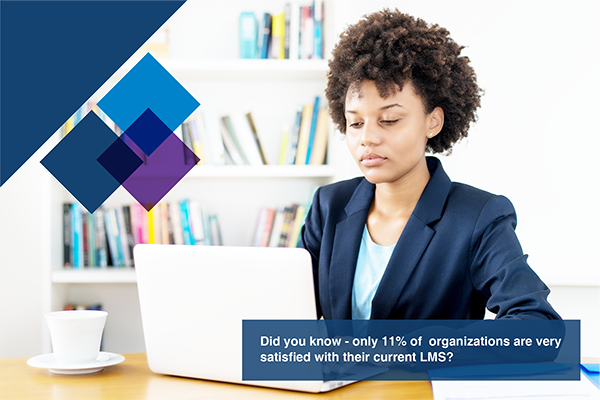 While initially, the benefits of a homegrown system can be substantial, the risk and costs can become high over time. Here are some additional reasons why you should consider replacing you homegrown LMS:
Integrations
Based on recent research, 83% of organizations are now looking to improve the ability to integrate with other systems with their next LMS (Brandon Hall Group, Learning technology 2019). Inevitably, the LMS needs to integrate with other solutions already in place across the organization. Professional LMS vendors develop a robust set of APIs to easily enable product integrations, so the LMS can operate seamlessly as a part of the enterprise- wide software ecosystem.
Extended enterprise training
In addition to managing training for internal employees, organizations now increasingly need to meet the needs of external learners. This requires a lot of flexibility from the learning platform. Consequently, organizations looking to grow will struggle over time with their homegrown learning systems, which are difficult and costly to maintain, hard to scale, and tricky to personalize for different learner audiences.
Compliance and security requirements
For organizations in highly regulated industries, compliance and security are critical. Keeping a homegrown learning software solution stable and secure is extremely challenging since all the adjustments are done over time. Professionally developed software can offer more security than homegrown systems, especially if you select a vendor with years of experience in high-consequence markets and the public sector.
Ease-of-use
Ease-of-use is one of the top reasons why organizations are looking to replace their LMS (Brandon Hall Group, Learning Technology 2019). While everyone eventually becomes used to the homegrown system, new employees may often find it difficult to understand how it works. And when employees who are familiar with the system leave or retire, the new talent replacing them is most likely used to performing tasks on intuitive, user-friendly interfaces, that are available anytime and anywhere.
The total cost of ownership
Some companies think that maintaining a homegrown system is less expensive than buying a new, modern LMS, but this isn't generally true if you evaluate the Total Cost of Ownership (TCO). Learning platform providers offer professional services to implement and maintain the system. Partnering with an LMS vendor frees up your internal resources and results in cost-savings over time. It makes sense to consider the benefits of rapid implementation, customizations, and lower total cost of ownership, compared to an investment in internal software development.
Professional support and services
In today's world, technology changes and advancements happen quickly, affecting your learning requirements. The internal software development cycle is often too long and implementing adjustments can take even more time. Your IT team will also need to support any application built in-house. But professionally built, commercially available learning management systems have experienced support staff and professional services teams that are dedicated to their platforms. In addition, they have extensive knowledge bases built on experience with many clients over time. Investing in a stable, proven LMS result in uninterrupted professional support for your users.
It is challenging to be innovative if the learning management system is internally built and maintained. In the end, if building software isn't your company's core business, you would be better off buying a modern, commercial LMS, which has more features and can easily be implemented and upgraded. Working with an innovative LMS vendor allows you to concentrate on planning learning strategies and allocating internal resources to learning program management, rather than focusing on developing and maintaining technology.
If you already have an aging, homegrown LMS, you should start considering vendors now. The longer you wait, the more difficult it will be when you eventually make a change.
Meridian was recently named as a Leader in the Aragon Research Globe for Corporate Learning. Download the complimentary report now to learn more about Meridian.
Let's discover how we can work together to help you move from a homegrown learning system and gain the benefits of a modern solution with the consumer grade features and ease of use that your learners and administrators expect.