Start your research towards a better solution and discover the many ways to improve your learning management program.
Click the buttons below to start your download.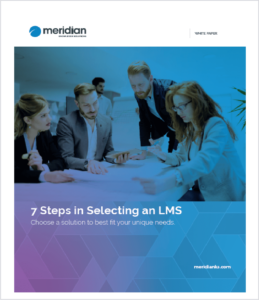 7 Steps to Selecting an LMS
A helpful resource to guide you in your research for a new learning management software.
Aragon Report 2021
The Aragon Report Released in August 2021 compares and ranks the top Enterprise LMS Vendors based on their capabilities and value to large enterprise organizations.
Brandon Hall Solution Provider Profile: Meridian
A helpful overview of Meridian LMS capabilities. Download this useful brief to provide summarized information and insights about the Meridian LMS platform.